This week started with a school shooting and news from Marshall County High school in Benton, Kentucky where a 15 year old boy, and 15 year old girl died in a hospital after a student opened fire in a school common area.
Benton is a small farming town of around 4,500 people, situated about 130 miles northwest of Nashville, Tennessee.
A 15-year old student was addressed in a 'non-violent apprehension" after being detained by state police 15 minutes after opening fire on Tuesday.
The attacker fired apparently at random with a handgun in a common area before classes started, and will be charged with murder and attempted murder.
#MarshallCounty High Shooting: "The KSP has been in this area recently teaching the faculty how to respond to an active shooter situation. The students and faculty did everything they were trained to do" -KSP Commissioner Rick Sanders

— KY State Police (@kystatepolice) January 23, 2018
The souls of Marshall County have been bruised and the fabric of the community has been torn, but the people of Benton, KY and the surrounding communities are strong…With faith in God and with reliance on friends and family, we will get through this dark day together…#WeAreKY

— Governor Matt Bevin (@GovMattBevin) January 23, 2018
The FBI is assisting with the investigation.
Police announced that among the casualties were Bailey Holt who was pronounced dead at the school, and Preston Cope who succumbed to injuries at the hospital.
According to the BBC,  14 students were hit by gunfire and 5 students suffered injuries trying to escape from the incident.
Nearly 1,150 students attend the school, and according to Jason Hall, a student who witnessed the incident, "I saw people getting shoved down. There was a lot of blood everywhere. It was horrible."
The Kentucky shooting is at least the second gun attack in an American high school in 2 days after a 15-year-old girl was shot by a 16-year-old classmate in the cafeteria of a school in Italy, Texas. 
The State of Gun violence in the US
Mass shootings and gun-related homicides are a persistent problem in the United States where gun-related killings comprise 64% of all homicides.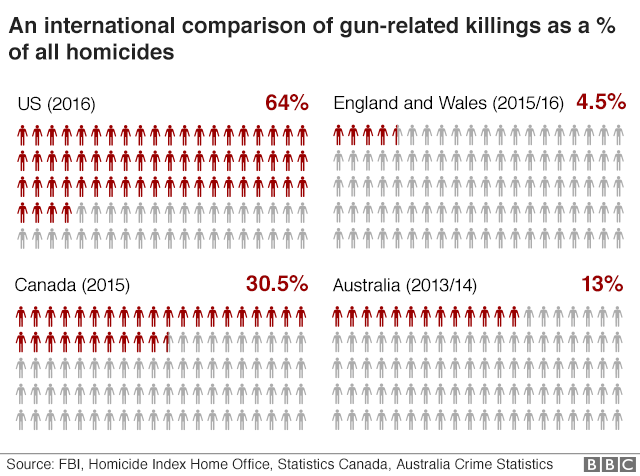 There have been more than 90 mass shootings in the US since 1982 according to a study done by the investigative magazine Mother Jones. The study identifies instances where three or more victims were killed as a mass shooting, but does not include killings related to robberies or gang violence. For more info on the joint study, check out the BBC's analysis on the state of gun violence in the US.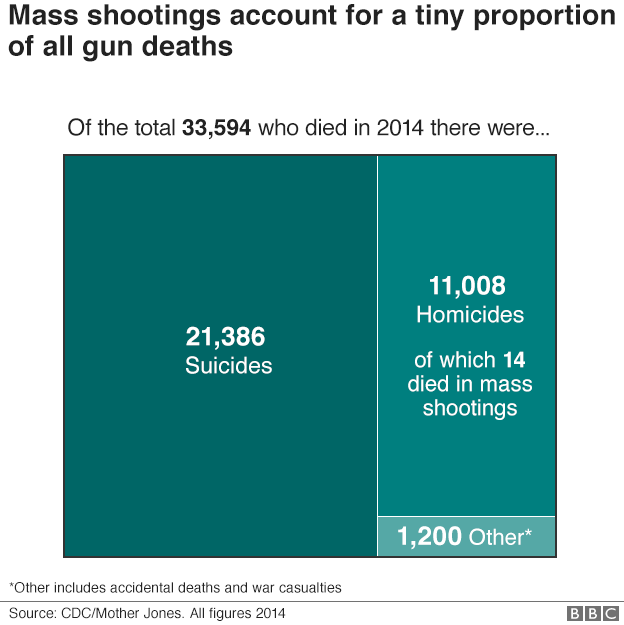 Overall when breaking down gun-related deaths in the US there were nearly twice as many suicides involving guns in 2015 as there were murders, and this rate has been increasing.
Suicide by firearm accounts for almost half of all suicides in the US according to the Centers for Disease Control and Prevention. The average killer in a mass shooting is 34 years old, with the oldest killer being Stephen paddock, the gunman who killed 68 concertgoers in Las Vegas, and the youngest, Andrew Douglas Golden was 11 when he ambushed students and teachers at the Westside middle school in Arkansas in 1998.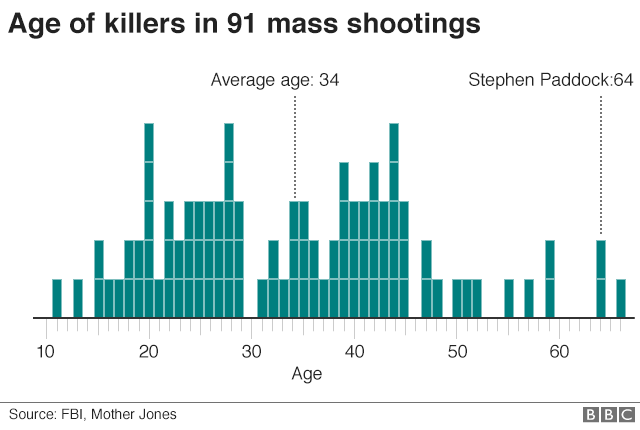 According to the study by the BBC and Mother Jones, mass shootings have become more dangerous every year, and the three shootings with the highest number of casualties have all occurred in the last 10 years.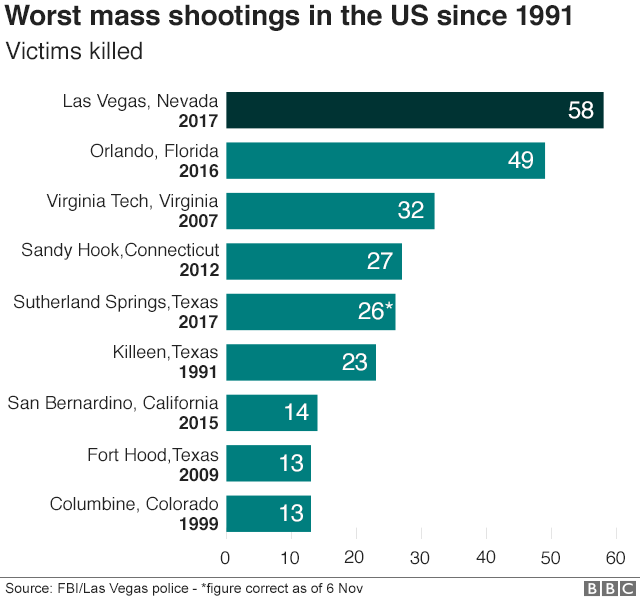 Contrary to popular belief most of the weapons used in US murders are handguns, followed by rifles, and shotguns. 25% of gun murders are caused by other firearms.
According to the Guardian, "Data compiled by the Gun Violence Archive reveals a shocking human toll: there is a mass shooting – defined as four or more people shot in one incident, not including the shooter – every nine out of 10 days on average."
It's likely that this Tuesday's shooting will be the first among many in 2018. There is no clear solution to ending gun violence as the public remains divided on the efficacy of handgun and assault bans.